Travelogue

Getting up North & Entering Lao

As noted in "Facts for the Visitor," there are many ways to get from Bangkok to Lao. There is no 'best' way and it depends on where in Lao you want to visit. It also depends on your time constraints, budget, sense of adventure, ability to tolerate, delays, fear of flying, etc. Each mode of transport has its plusses and minuses.

We were headed from Bangkok to Vientiane and then to Luang Prabang. As an aside, in planning our trip to Lao we noticed some comments on travel boards suggesting people skip Vientiane and head directly to Luang Prabang. We had the same experience when planning our trip to Cambodia, where we were advised to skip Phnom Penh and head directly to Siem Reap. We ended up enjoying both cities in Cambodia. This experience in mind, we chose a route and mode of transport that would allow us to see Vientiane and at least Luang Prabang. If you are determined to skip Vientiane, you can take steps (see "Facts for the Visitor") to bypass it and go directly to Luang Prabang.

Flying with Thai Air, Lao Aviation or Angel Air to Vientiane is definitely the quickest mode. There are daily flights and it only takes about two hours. However, flying is not cheap and despite the short duration of the flight - it will eat into your touring time, as all flights are during the day (morning and afternoon). Bus and train are the other popular modes. You can take these as far as Nong Khai, Thailand. From Nong Khai, you will have to cross by land into Lao. (About another hour for crossing and processing). Buses and trains will take 10-12 hours to make the Bangkok-Nong Khai journey. Airconditioned express busses leave Bangkok for Nong Khai in the morning and evenings. Trains run from Bangkok's Hualumpong Station to Nong Khai three times a day: 6:15, 19:00, 20:30. The overnight journeys will save on daylight touring time and will also save you a night in a hotel ($$$). Needless to say, they are both far cheaper than the plane. The train, while more expensive than the bus and taking a bit longer, affords sleeper seats and compartments which allow full 180º recline.

Again, no best way to make the journey - we wanted to save a bit of money, see some of the landscape near the Thai/Lao border and travel with a reasonable level of comfort. The train satisfied all of those criteria: inexpensive fares, arrived up north after sunrise for wonderful views, and sleeper compartments (see photo below) were available on the night train. Having the sleeper option in the trains was the major advantage over taking the bus.

Train Tickets

Train travel is a great way to get around Thailand at bargain prices. We arranged our tickets from our hotel and had them delivered to our room for a fee of Bht 200/each. A bit expensive, but we were on a tight schedule and it saved us at least an hour or two of time commuting to the train station an waiting in the queue. The

State Railway of Thailand has a decent www page that describes their service, schedules, and prices: http://www.srt.motc.go.th/httpEng/.
Train Ticket: Bangkok-Nong Khai

We purchased first class sleeper seats from Bangkok to Nong Khai Mai for a price of Bht 1,077 one way. This was for the night train/sleeper, aircon car. You can buy the tickets in advance (I think as far as 60 days) but be careful that they are not very flexible in terms of refunds or changing day of departure. Some agents in Bangkok can even book your train and send you tickets to your home overseas or your hotel in Bangkok.

ThaiFocus (http://www.thaifocus.com/travel/train/index.htm) advertises that they can book train tickets via the internet and deliver them to your home (overseas or in Thailand), but I have no personal experience with them.

Monday 27 November, 2000 - Train to Nong Khai

The morning was spent packing up our purchases from Chatuchak and segregating our Bangkok clothes from what we would be bringing to Lao. We jettisoned our 'city' clothes into a piece of luggage, export packed a Jumbo Box of things from Chatuchak and left them both with the hotel bell captain for storage during our trip to Lao. This is cheaper and probably safer (depending on your hotel) than keeping things in long-term storage at a train station or airport.

We were booked on train No. 69 for the Bangkok-Nong Khai trip, departing Bangkok's Hualumpong Train Station at 20:30 and arriving Nong Khai 8:40 the next day.

North East Train Schedule
| | | | | | | | |
| --- | --- | --- | --- | --- | --- | --- | --- |
| | RAP135 | RAP 139 | EXP 67 | RAP 141 | RAP 137 | RAP 133 | EXP 69 |
| Class | 2-3 | 2-3 | 1-2-3 | 2-3 | 2-3 | 2-3 | 1-2-3 |
| Bangkok | 0650 | 1845 | 2100 | 2245 | 0615 | 1900 | 2030 |
| Don Muang | 0748 | 1939 | 2154 | 2333 | 0712 | 1954 | 2120 |
| Ayuttaya | 0833 | 2022 | 1242 | 0015 | 0754 | 2040 | 2203 |
| Nakorn Ratchasima | 1212 | 0020 | 0219 | 0445 | -- | -- | -- |
| Buri Ram | 1420 | 0215 | 0406 | 0654 | -- | -- | -- |
| Surin | 1504 | 0304 | 0452 | 0748 | -- | -- | -- |
| Ubon Ratchathani | 1745 | 0535 | 0720 | 1045 | -- | -- | -- |
| Khon Kaen | -- | -- | 0434 | -- | 1453 | 0402 | 0537 |
| Udon Thani | -- | -- | 0625 | -- | 1645 | 0616 | 0749 |
| Nong Khai | -- | -- | -- | -- | 1730 | 0710 | 0840 |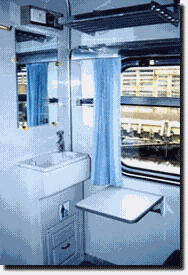 We wanted a night train for a variety of reasons: (i) With our trip constrained by holiday/work schedule, the night train reduced the number of daylight hours we would spend commuting, (ii) Saved on hotel bills - one less night in the hotel. We chose express train No. 69 primarily because it had three classes of service, with first class having sleeer compartments, the most comfortable seats possible for the 12 hour trip.
After taking a short taxi ride to the train station, we waited in the station for about 90 minutes for our train. The station is an experience in itself. It is cavernous, sticky with humidity and was busy that evening with hundreds of people heading to all corners of the country. Families were hauling cardboard boxes, duffles, infants and all manner of suitcases. [We even ran across another American who had eight matching red Samsonite hard-side suitcases - headed to Nong Khai. In the context of the train station, he probably had the most unusual luggage, ha ha.] There are a few hawker stands/convenience shops in the station for last minute items. We left about 30 minutes late from the station, but once underway the trip went as scheduled. About an hour out of the station, a porter converted the room from seats to a sleeper and made the beds for the night. An attendant sold snacks and drinks car to car as well as took breakfast orders for the morning. The train was an adventure and provided some wonderful views of the night sky w/o the light pollution of the cities and even better views of the rural landscape as we awoke in the morning. All-in-all, I recommend one take a long-distance train at least once while in Thailand.
Crossing the Border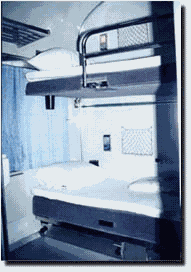 The train arrived in Nong Khai at about 9:00 the next morning. Although we used the sleeping car, it was a bit of a rough night - as I do not have much practice sleeping on trains. Besides, the view of the night sky kept us awake. Views of the contellations were fantastic - with nearly zero light pollution! If you are a fan of the night sky, I suggest you bring a field guide/star map, as the constellations seem to jump from the sky with clarity. Pulling into Nong Khai let us know we were in the boonies. Boarded the train in a city of 10+ million and awoke in Nong Khai, a small border town of about 25,000 people.
From the train station, one can hire a tuk-tuk driver, motorcycle or taxi to get to the border crossing point, the Thai-Lao Friendship Bridge. The taxi/tuk-tuk system is *very* informal at the train station, and it will be up to your bargaining skills to get the best price. We took a tuk-tuk for about US$3.00 total for two people and bags. The tuk-tuk took us to the crossing point, the 1,000 meter Thai-Lao Friendship Bridge. It opened in 1994 and is one of the very few bridges over the Mekong. One has to officially exit Thailand here, with a chop to the passport, and catch a ride on a shuttle bus (about 20 Baht if I recall) that goes across the bridge to the Lao immigration check point. Have one passport photo ready, along with US$30 in cash for the Lao visa. One can fill out a visa application on the spot and enter Lao for a stay of 15 days.
Finally, after traveling 1/2 way around the world - we were in LAO!
The border was quiet, nearly desolate in its remoteness. We began to seek out transport to Vientiane. We understood from the guide books that it was about a 20 minute drive from the Bridge. Again, as with the train station in Nong Khai, the transportation system on the Lao side of the Friedship Bridge is informal. Bargaining is a must. Taxis, tuk-tuks and vans are available. It is not chaotic and I was actually surprised that there were not more taxis or people waiting. waiting for those who were crossing the bridge after arriving on the express train from Bangkok. Alas, we had a few choices of transport. We found a driver who understood our very rudimentary Lao and spoke enough english to get us to our guesthouse.
Nong Khai Station - Tuk Tuk to Friendship Bridge

TIP 1:

Avoid private 'visa services' that may be touted on the Thai side of the Bridge by enterprising business persons - this is just a 'company' that helps you fill out the Lao visa forms in advance and will also take passport photos. They usually charge a total of US$50 for each visa. Basically, a US$20 mark-up for what you can accomplish yourself on the Lao side of the border.

TIP 2:

While you can get food on the train, I recommend bringing some of your own snacks and drinks - as your choices on the train are limited and the ride is a long one.

TIP 3:

You can save some money by going 2nd Class sleeper, but for an additional US$10, I would recommend strongly taking 1st Class sleeper compartment if you are travelling with another. It offers a bit more privacy, convenience and room.

Continue Travelogue - Vientiane Basics