Travelogue - Vientiane
Finding a Place to Sleep.............
Not knowing Lao or anyone who had ever visited the country, we knew we were going to be on our own this trip for housing. As a result, we conducted quite a bit of research in advance, using a combination of Lonely Planet tour books, internet news groups and bulletin boards. Despite the fact that we carry one, we are not true backpackers nor your typical luxury travelers, but tend to want a bit of comfort. OK, we are wimps and like hot water, aircon, clean sheets and private baths. In addition, we tend to seek out places with some character - historic buildings, places with a story etc. We came across the Villa Manoly in a newsgroup and corresponded via email with the managers, Mr. Xang and Mr. Pheyphanome Nhouyvanisvong. Mr. Xang returned email and also was able to help on the phone to reconfirm our reservations.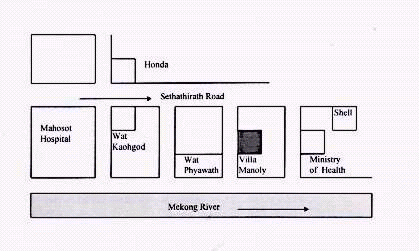 Villa Manoly was a good choice. It had character and the price was right @ US$25/night for a large, clean room on the top floor. You may be able to see in the photo that there was a veranda on that floor which was nice for sitting in the afternoon. The rooms were basic, with aircon, private bath, hot water and tile floors. No TV or phone, but that is pretty customary in Lao. Actually, that was a treat - as we were trying to escape the phones and especially news from home. We were burnt out on news about the stock market, and the general election nightmare of ballot recounts in the U.S. Presedential election. The Manoly was old and creeking a bit - but very quaint. Although it is a short stroll from the Mekong - it was dry season, so the Mekong near the Manoly was little more than a flood plane. If there was a downside to staying at the Manoly, it was the distance to downtown proper. A walk to the Morning Market or downtown was about 15-20 minutes. Not a bad walk - but we were not in the center of things. It really did not bother us too much, as the walk in the morning was good exercise and once downtown we caught tuk-tuk rides back to the Manoly at night.

la Villa Manoly
Quartier Phyawat
PO Box 89
Vientiane
tel/fax: (856-21) 218907
Email: manoly20@hotmail.com

On our second visit to Vientiane (after returning from Luang Prabang), we decided to give another place a try - just to compare our experience at Villa Manoly. We had read much about the Lani Guest House 1 on the internet and in the L.P. guidebook. So much so that we thought it would be fully booked - not the case. It is an old colonial house with about 12 rooms. You can barely tell from this photo due to the overgrowth, but it is actually a decent place. The floors were less dusty than Villa Manoly, but the Lani had more mosquitos (not surprising from the heavy foliage around the place) and security was a question......the front desk was rarely attended - and all room keys were clearly in sight. The price was also US$25/night for the standard room and US$35/night for suite. Aircon, hot water, private bath and a phone in the room at the Lani. While the phone may yield an "A" for effort, it is not really necessary for most guests. Afterall, who am I going to call in Lao and I can only imagine the cost of a long-distance call to home from their rooms.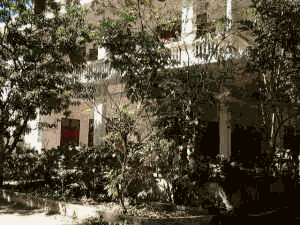 281 Setthathirath Road
Haysok, Vientiane
Tel: + 856 21 214 919, 216 103
Fax: 215639
email:
lanico@laonet.net