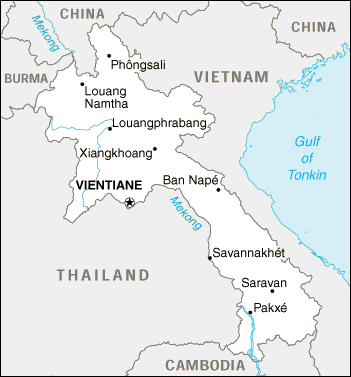 Genesis of a trip:
While we were living in Malaysia, we read quite a bit about the region and visited a half dozen of the countries. One place which we did not have time to visit and that interested both of us was Lao, P.D.R. It is probably not too surprising for many to learn that we received quite a few blank stares and questions when we informed friends and family that we were headed to Lao, on a holiday. We wanted a trip that would allow us to downshift from our life at home, explore different cultural and the historical sites, eat good food and enjoy some warm weather. Lao offered all of these elements and thus a trip was born.
Lao in a nutshell:
The Lao People's Democratic Republic ("Lao P.D.R."or "Lao") is a land-locked country which borders China to the north, Cambodia to the south, Vietnam to the east, Thailand to the west and Myanmar to the northwest. The longest part of the country runs from north to south for 1,700 km. The widest part stretches over 500 km and the narrowest 140 km.
Lao is one of the least developed nations in Asia and has only a basic infrastructure system. It is a communist country with a centrally planned economy. The government controls productive enterprises. Subsistence agriculture is the main form of employment (80-90%) and largest contributor to GDP. Population is estimated to be approximately five million. Buddhism is the predominant religion (85%).
Route and Stops:
Working in the States does severely limit the amount of time we could take for holidays. Unfortunately, due to this constraint, we had to limit our trip to just over two weeks. Given this time constraint and a desire to absorb as much as possible, we limited our stops.
Washington, D.C. - Bangkok - Vientiane - Luang Prabang - Vientiane - Bangkok - Washington, D.C.
Continue to Facts for the Visitor